Changes that you can change..
With its easily removable covers, Buddabag is simple to change to suit your mood or changing décor and if you don't like the colour, you can simply change it in a flash! But unfortunately most things in life aren't so easily changed. From times we stepped out in the most ridiculous outfits, to times we should have just stopped and rethought our entire plans, here's a look at times when a change of mind might have been a good have been a good idea.
Beware the
Webcam
You know how it is, you're cosied up watching the Xtra Factor and all of a sudden you spot a topless woman wandering in the background of Dermot O'Leary's live skype to a fan! His face is priceless in this one… but we have our doubts about this being an 'accident!' In any case folks, the moral of the story is don't walk past your flatmates door in the nip (or semi-nip) when he or she is on skype! A wee re-think might have been a good idea here!
Wardrobe
Malfunction
Lenny Kravitz might be something of an uber cool style icon/sex symbol, but this humongous scarf is not really doing his street cred any favours is it? Is it really that cold Lenny? Or are you just getting old? We think a quick look in the mirror before leaving the house might have been a good idea Lenny!
Being a Bit
Too Brave
We've all been there, sidling up to jump over a massive puddle or stepping stones across a river or just a small jump between walls.
You psyche yourself up, preparation is key, you eye up the gap, take a deep breath and then…. Splat! You crash and burn just like this poor Ferret!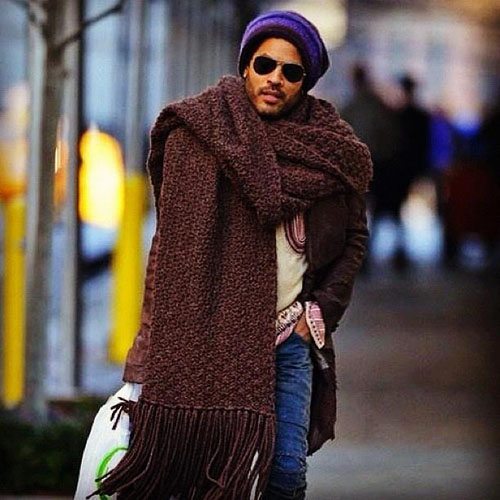 The
Awkward Kiss

Gone Wrong

This is one of those times where a quick change of mind would have been a good thing!
Should I kiss on the cheek?
One cheek or both? Left or right?
Or should I just leave it?
Before you know it your indecision leads to something like this and there's no going back! #TotesAwkward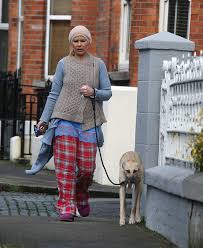 Going out in
Your PJs

– We've all been there

It's the weekend, its cold outside, you're cosy in your PJs, possibly snuggling on your Buddabag, when you gasp for a cup of tea but realise there's no milk. The only thing for it is to venture outside down to the local shop. You think of driving? But no that's too much hassle, sure you'd have to change your clothes! So you decide to walk, sure it's only around the corner no-one will see you in your PJ's….. or will they? Well poor old Sharon Ni Bheolain thought the exact same thing when she was papped in her PJs and wasn't too pleased about it. Cheer up Sharon, we've all done it!